Good afternoon everybody and welcome to another Guest Designer Day. Today we have the fantastic Ellen AKA CardMonkey. I was so fortunate to meet her in person and she has an amazing creative mind. So without further delay, heeeeeerrreeeee'sssss Ellen!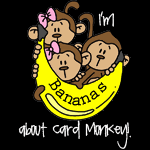 Hello out there in Susana's Corner! My name is Ellen, but most of my cardmaking friends know me as the CardMonkey.
Sue was kind enough to offer me a Guest Designer opportunity on her blog. I hope you enjoy my post today ... and if you do, hop on over to my blog too, and become a Follower! You can find me at http://cardmonkey-business.blogspot.com.
One of the things I enjoy most about blogging -- besides meeting people like YOU! -- is sharing with my friends some of the tips, tricks and techniques I've learned to enhance my cards. Why be "usual" or typical, when you can add something different?!
I learned the ribbon weaving technique used on the wreath (above) by watching a YouTube video that was posted by Mei Flower Crafts. Mei Flower Crafts sells the wonderful satin ribbon used to make this wreath -- and even though they are overseas (England), their pricing with shipping is still very competitive and the quality of the ribbon is fabulous!
Here is the video where I learned the technique:


To finish off my card, I mounted the ribbon wreath using foam sticky tape (

CHEAP

at BigLots!). I then used a Hero Arts Stamp for the sentiment, brushing the stamp with VersaMark red ink. I tinged the edges of the sentiment with Tim Holtz's Distress Inks in Forest Moss prior to stamping.
I stamped the sentiment on Vanilla Cream stock, and mounted that on Topiary (green) and then on an Elemental Level 2 paper, all by Close To My Heart (CTMH). I am a new CTMH consultant -- I became one right after I saw Sue using CTMH products to make a great group of cards ("Make-N-Take") at a recent crop we attended at "ScrapThat!", an LSS in Burlington, NJ.
I must say: I am very fussy about my paper quality when I put so much time/love into my cards ... and I LOVE the feel of the CTMH paper. Liken it to the difference between sleeping on linens you'd get at the bargain basement, to that of the comfort of sleeping on linens made using a high thread-count Egyptian cotton. Standard versus luxury. With CTMH, you get exclusive colors at less $ per sheet than the MSRP of Bazzill cardstock. And there are matching stamp inks!
I'm just trying out my CTMH supplies ... gotta tell you, their "Liquid Glass" is far superior to "Glossy Accents" and I ♥ their Bonding Memories two-way glue. And should I tell you how fab their micro-tip scissors are? -- I have the tiniest pinprick of a stab wound on my left index finger where I inadvertently stabbed myself .. my usual dull blades would have left me unwounded.

(LOL, I guess this shouldn't be my selling technique, ehhh??

But

can you imagine how I was able to fussy-cut the tiniest details with these babies!?! Oh, and they do come with a protective shield for the tips to keep them sharp, and safe!)
By the way, if you're looking for the CTMH Exclusive Cricut cartridge

"Art Philosophy,"

contact me at cardmonkey@comcast.net or troll on over to my blog and connect via the SHOP CTMH button on the right hand column. This cartridge is a must have for cardmakers, as it's chock-full of card shapes, labels (no more dies!), and shaped flowers for embellies. Currently, there's a terrific package deal and you can still qualify for a free Stamp of the Month with that purchase.
Well, that's it for me today ... I hope you learned a little today, and loved a lot. Get the scrap out of here and get let your creative juices flow!
Thanks to Ellen for being my Guest Designer today and I can't wait to craft with her in 2 weeks!!! Until next time...